Registration Information for The Lion King Jr, November 2021


To Audition and Register to be a participant in our November 19-21 Production of The Lion King Jr. please:


1) Click SIGN UP! below for a link to sign up for an Audition Date and Time. Audition dates are Monday, August 16 and Tuesday August 17 starting at 6PM at the Artstarts House in Marion, Illinois. Callbacks will be held August 19, 2021. If your actor chooses to be in the ensemble only and does not want to audition, go to step 2).

2) Complete the Registration form.

3) Scroll waaaayy down, select the amount you are paying, and Click the Buy Now payment button to pay for registration with a credit card or your PayPal account. Registration fee is $125, or reduced fees for 25 tickets purchased or multiple children in the show.

Each of these actions are done independently of each other and can be done at different times.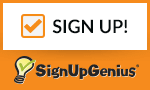 Complete Registration Form below:


Complete Registration with a Credit Card or PayPal payment by clicking the button below. Also, a check may be mailed to the Artstarts House or presented at Auditions or an early practice. Note that if you plan on selling 25 or more tickets to the show by a date to be determined, the registration fee is reduced by $65.00. Tickets must be purchased by the child's parents for the Civic Center to keep track of this. Also there is a fee reduction for multiple children in the show. A date will be determined for any possible refund for a child dropping from the show (Info TBD).